COBRA is Expensive 

we can help.
Get Short-Term Medical Insurance at lower premiums

Shop plans by premium, deductible, and coinsurance

Find plans with 10 day free look periods

No network restrictions on many plans
Confirm your ZIP code to access pricing, availability, and enrollment options for your location.
Save Money Through COBRA Alternatives
COBRA can serve as a lifeline to those facing an unexpected job loss, but it is also really expensive. Due to its prohibitive cost, COBRA is an undesirable coverage option for people who can't afford to pay its sky-high premiums each month. If you have a limited budget and are willing to do a little research, alternatives to COBRA coverage offer a more affordable solution. At Healthcare.com, we can help you find which COBRA alternatives are best for you and your family.
There are Three Main Alternatives to COBRA Coverage?
Buy a Marketplace Plan. If you choose to shop for a healthcare plan on the Obamacare exchanges, check to see if you qualify for a subsidy before evaluating your options. Loss of a job is a qualifying life event that makes you eligible to enroll at any time of the year.
Purchase a Private, Off-Marketplace Plan. While premium and deductible costs tend to be higher in off-Marketplace plans, insurance policies sold outside the ACA exchanges are more likely to offer other benefits, such as out-of-network coverage.
Apply For Short-Term Coverage. Like their name implies, short-term health plans function as temporary health insurance for people who are in-between major medical insurance plans. Short-term health plans don't provide as much coverage as a Marketplace healthcare plan. On the other hand, they are much cheaper and can serve as a temporary solution until you can get more comprehensive coverage.
Who Qualifies for COBRA Coverage?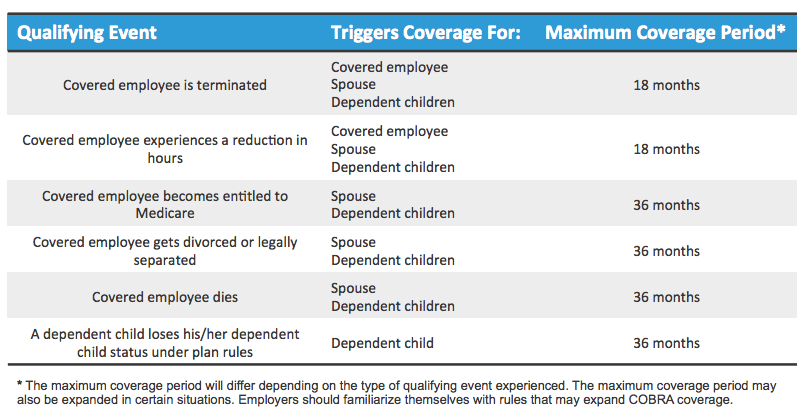 Plans presented may include Affordable Care Act (ACA), short-term health insurance plans or Medicaid based on selection and qualification. Pre-existing condition provisions, benefit availability, limitations, and exclusions vary by plan type and state. See details for more information.